***All pricing in this article is based off our early 2021 price list
Looking for swag ideas that your customers will actually wear?
Here are our top picks for company clothing items to hand out to your best customers.
Examples of custom clothing we've made for customers across Canada
Ever wonder what happened to that stress ball or pen that one of your suppliers gave you? Yeah we stopped wondering as well: gone and forgotten into the Bermuda Triangle of trinkets and trash that we all accumulate along the way. If you really want to stand out from the crowd, make heads turn, and impress your customers and employees with something that they won't forget in 30 seconds, then make your next event special with some branded corporate apparel.
Great looking branded apparel helps identify your staff as part of your team and also makes them recognizable to your customers. Whether you want to say thanks to your customers, are looking for that unique golf tournament giveaway, or are bringing your team together for a conference or trade show, corporate apparel from SwagandSafetyMadeEasy.com has you covered . Whatever your budget or timeline we can help find that special something that will make any event memorable.
---
Customer Appreciation Gift Ideas
You work with them, you might occasionally argue with them, they drive you crazy at times, but at the end of the day a business without customers and clients is probably headed for the dust bin real fast. It's just good business to say thanks to the people that pay your bills and keep you and your team going. Not only are you saying thanks, you are getting your brand out there for future customers to see as well as reminding your past customers to check in next time they need something.
You don't have to break the bank to create some branded apparel that will wow your customers and get your brand out there for years to come. Here are a couple of our favourite items that will tell your customers that they are appreciated and special to you and your team.
---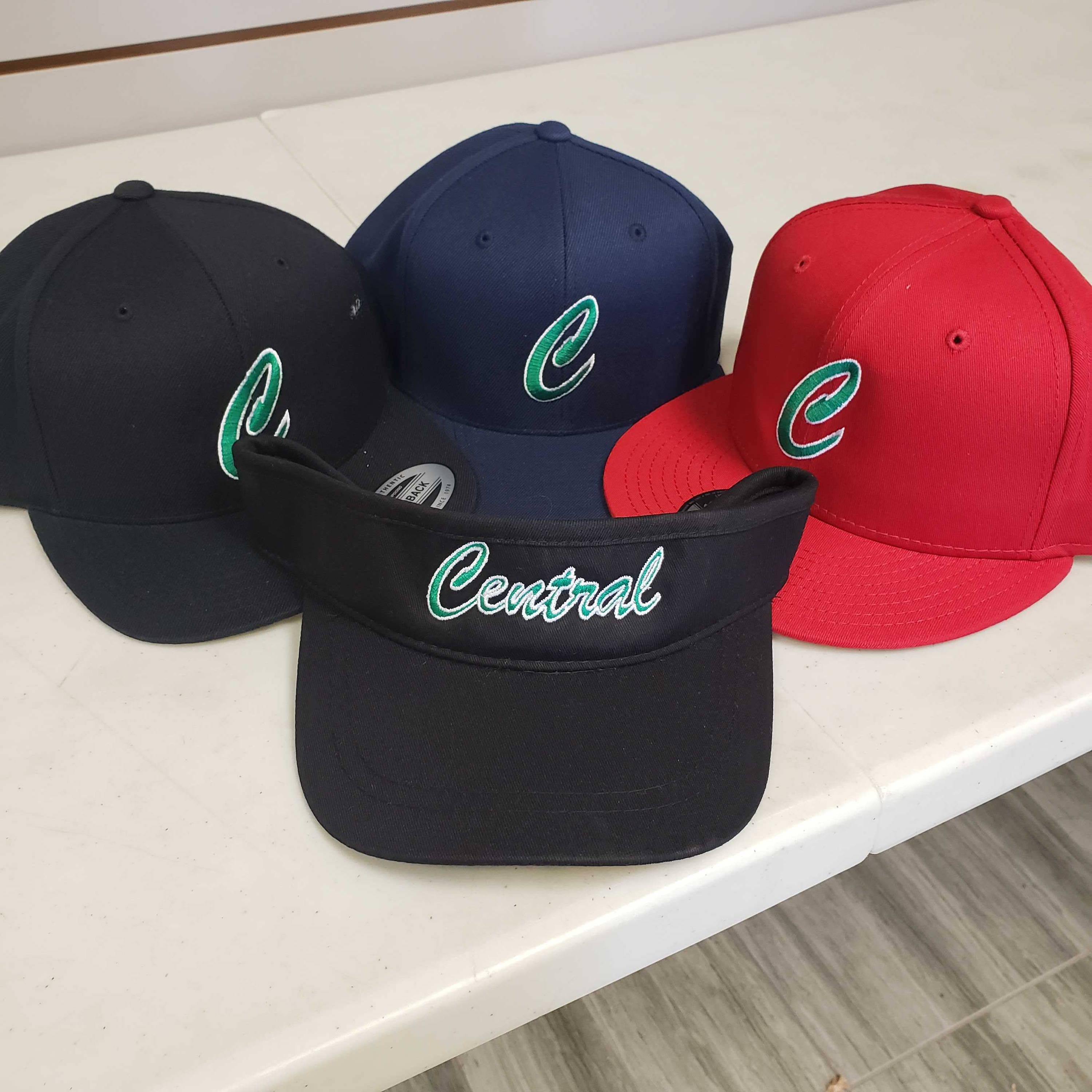 Custom embroidered premium caps (and a visor) for a customer of ours
Yeah we all have them but I bet you have just one or two favs that are your go to lids. The crew at SwagandSafetyMadeEasy.com can help you design that awesome looking cap that your customers will wear with pride.
Our Premium Cap assortment has all the bases covered and is available in a vast array of styles and colours. Once you have your cap selected we can then embroider your company logo to create that distinct one of a kind look won't be forgotten. In quantities of 50-99 caps we can get the job done for as low as $19 per cap. Take a quick peak below at our Premium Cap lineup.
Different styles of premium caps:
---
2. Patterned Dry Fit Polo Shirts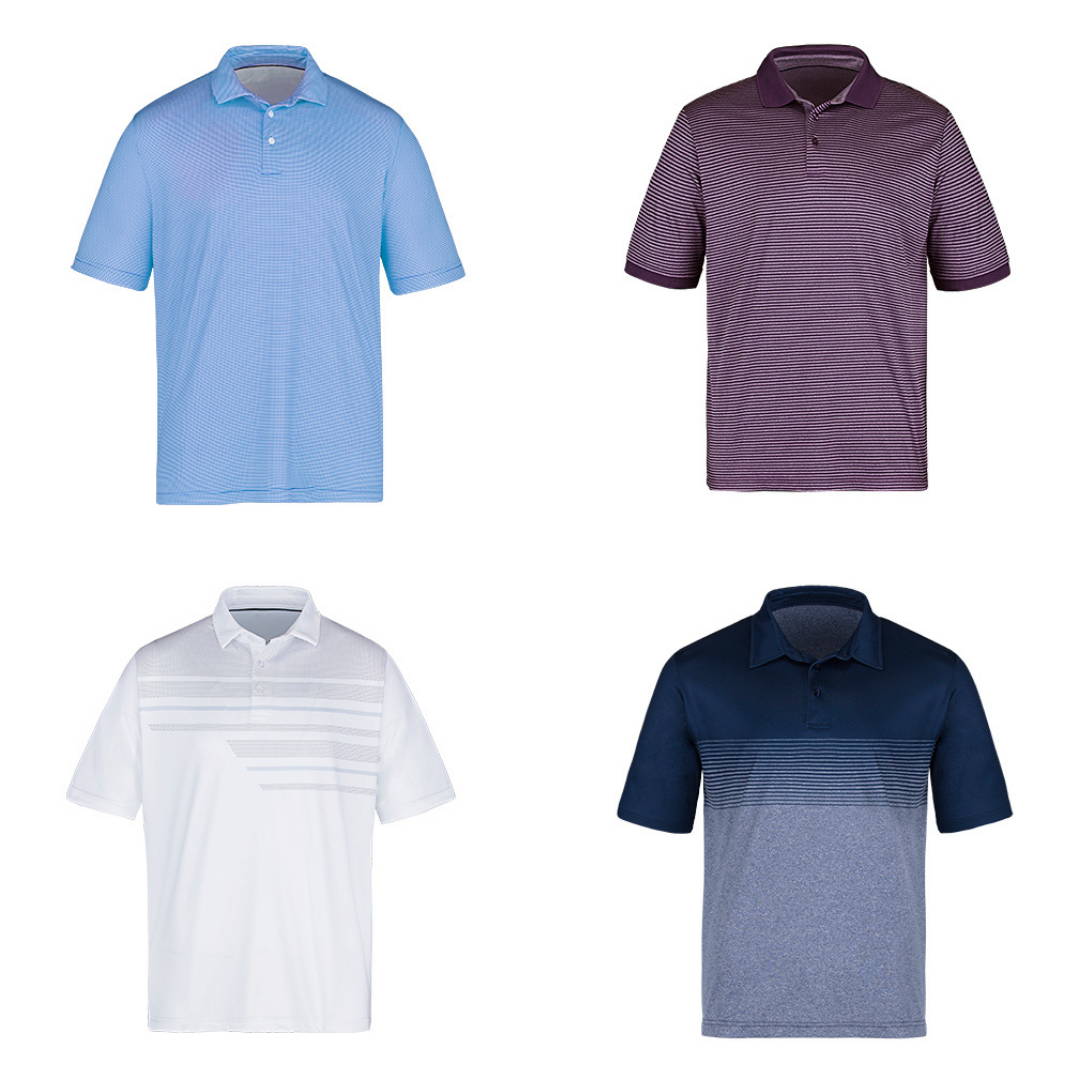 4 in-stock patterned polos we carry (each comes in 1-4 different colours). Order 50 or more shirts and you can create your own pattern!
OK we all have a few polos kicking around the closet but these extremely lightweight dry fit polos will stand out from the rest of the herd. With 11 colours to choose from and 4 different patterns available you're sure to find the one that will be the perfect fit to bring your corporate brand to life. Wow your customers to the point they rock your logo more often at the golf course!
We can decorate these beauties with either embroidery, colour print or a full colour transfer for as low as $32 per polo when ordering 50-99 shirts.
Don't see a pattern you like? We can do custom printed patterns from scratch with a minimum order of 50 shirts. This option hasn't made it on our website yet, but you can see page 18 of our PDF catalog for more details.
---
3. PERFORMANCE ZIP SWEATERS
So you want to up the game a little and make a lasting impression with your customer base, look no further than this full zip performance sweater.
Available in 4 colours this 100% knitted fleece midweight sweater will be something your customers will wear with pride for years to come. It's easy to see why this sweater is one of our STAFF PICKS, this sporty, modern sweater with 3 zippered pockets is available in mens Small to 4XL and ladies X-Small to 2XL and is built to last.
Our Performance Zip Sweater can be embroidered or colour printed for as low as $54 per sweater when ordering 50-99 sweaters.
---
These are just a few of our favorites that will make your customers feel special and valued and won't break the vault at the same time. Let the team at SwagandSafetyMadeEasy.com help you create that lasting impression.
---
Do you find the catalog format easier than a website? Download PDF versions of our catalogs or email orders@swagandsafetymadeeasy.com to have us mail you a copy!
---
---
---
Ready to order? Get a quote below!
We ship anywhere in Canada!