We've been in the custom apparel game since 2015. Here are a few things we've learned to help make your next company clothing order go smoothly!
Examples of custom clothing we've made for customers across Canada
Often when we think of purchasing general apparel for our company, it's generally the last thing on a long list of to-do items. We find that no one specifically has the job to source apparel for your business: sometimes it's someone in marketing/communications, sometimes it's HR, sometimes it's an EA, sometimes it's the big boss themselves, and many times it's whoever drew the short straw. Inevitably, someone gets told, "Hey, we need some new apparel and we need it now".
Too frequently once it does get addressed, we get told something along the lines of, "We need sweaters and we need them yesterday". This sets you up to scramble at the last minute putting something together, and not being able to find what you are really looking for.
We're in the business of making everyone's life easy when it comes to ordering logoed clothing for your business, so we thought we'd put together this handy checklist.
Company Clothing Order Checklist
Get a brand guide together

Have a vectored logo

Pick your apparel items

Pick your garment colours

Collect your quantities and sizing
---
1. Get a brand guide together
This includes a few different components, but it's the best way to be prepared for when you are ready to place your order. Having a brand guide can often shave a week off your timeline because it means we don't have to vector your logo and we know exactly what colours to use.
If you have a marketing department you should check with them: they may already have a brand guide! You can work with a marketer to create a brand guide (if you don't have one), or use a template to create your own. Hubspot has a great article here on how to build one.
Take a look at our own brand guide as an example. We'd call this moderately detailed: it outlines the logo in 3 formats, the colour codes, and standard fonts. Some brand guidelines are dozens of pages long outlining all of the ways a logo may and may not be manipulated in different contexts.
Purposes of a brand guide:
Consistency: all of your swag will look consistent from order-to-order, as well as look identical to your website, vehicles, invoices, and anything else carrying your branding.
Efficiency: don't remake your decisions repeatedly. Don't waste time and energy deciding on logo colours, finding your logo files, etc. when you can do the work once, keep it in a safe place, and hand it to us when you're ready to order clothing for your company.
Typical components of a brand guide:
Pantones - these are the specific colour codes we need to create your colours
Vectored files - this is a specific format your logo is in that can be used with general apparel
Fonts - the specific fonts you use in your logo
Reverted logo - your guidelines for your logo on both light and dark garments
---
This video will give you a brief primer on what a vector logo is and why it's important for us when making custom clothing with your company logo
If you don't have a brand guideline, it's good to at least have a vectored logo ready. This specific format is required in order to print your logo on garments and can only be done by a graphic designer.
It essentially lets us and our production team edit, scale, and pull apart your logo for printing so it's required for any general apparel. As mentioned this can save you about a week because it means your logo is already good to print and we don't have to worry about going back and forth with you to make sure the logo is right.
If you don't have a vectored logo yet, we do offer it for free as part of your apparel order, but I would suggest starting your order early then so you have it when you really need it.
The good news: if you order with us we keep everything on-file so that we have your vector logo handy next time you are ready to place an order.
---
3. Pick your apparel items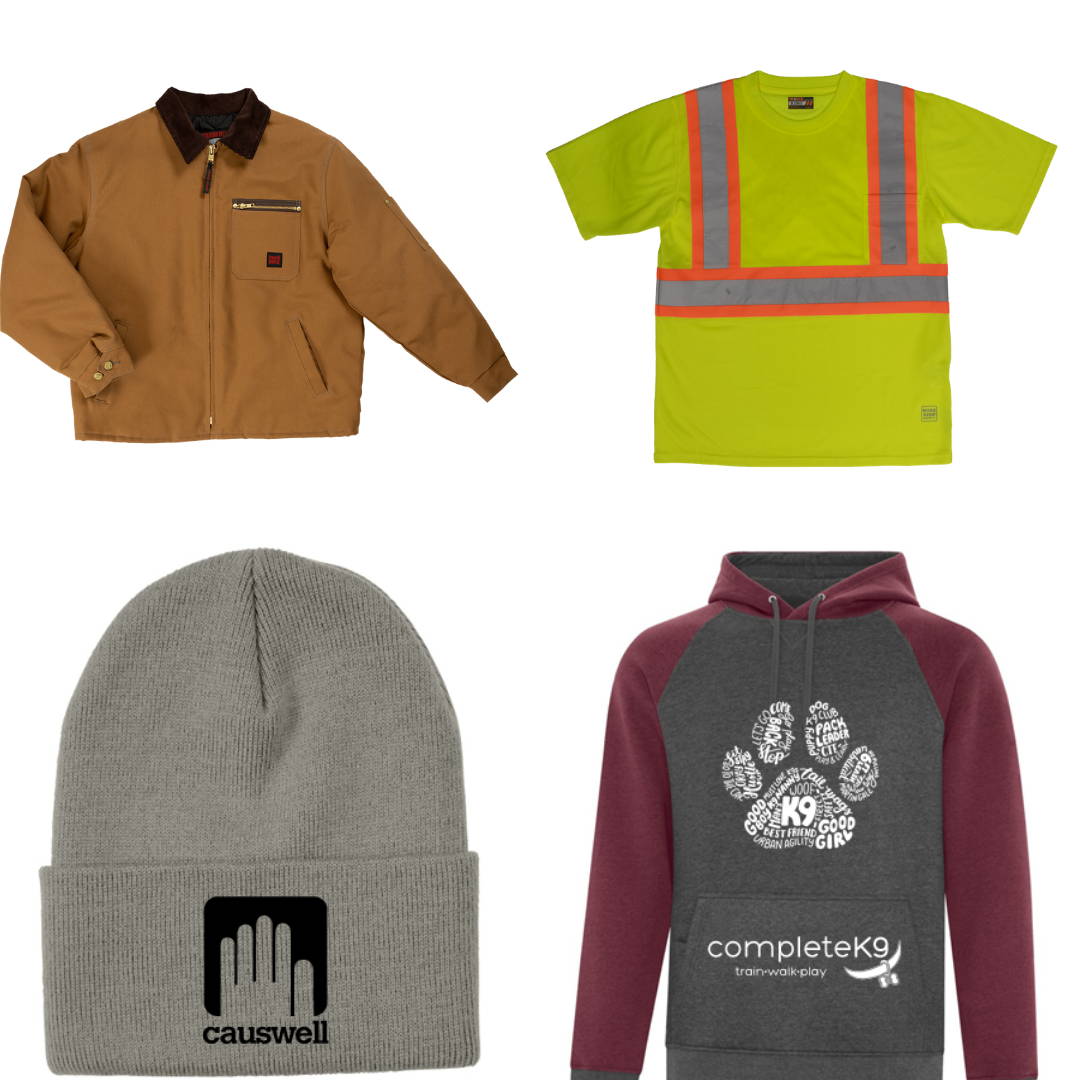 Just a handful of examples of the types of clothing you can apply your company logo to.
Picking the right apparel is super crucial to ensuring your brand comes across how you need it to.
Some questions to ask yourself:
Are these for employees or clients?

If for employees, is it something to wear daily or a nice gift?

Is the recipient of this clothing going to be physically active in this item (e.g. moving boxes in a warehouse) or relatively casual (e.g. sales team member)?

What clothing is relevant this season?
We've organized clothing into 3 sections on our website which will give you live quotes:
Do you find the catalog format easier than a website? Download PDF versions of our catalogs or email orders@swagandsafetymadeeasy.com to have us mail you a copy!
---
---
4. Pick your garment colours
If you need to purchase a large order of apparel, it might be good to pick products with the same shades, especially if you like garments that aren't just white or black. Some of our more basic options use the same colour (and have lots of colour options) so you can match a bit better across your team.
I have below some basic apparel that have colour options in the same shades, with their costs as 12 - 24 units.*


*Based on early 2021 pricing
---
5. Collect your quantities sizing
This tends to be the most tedious process, because either you have to decide what size would be best for each person, or you have to collect all that information from each person.

What we recommend is that if you are collecting that information for each person, make sure to start early. You can use the Google T-Shirt Collection Survey here for reference. Before you start, just make sure to click the three dots in the right hand corner, and MAKE A COPY. This copy is accessible to anyone, so your answers will likely get overwritten. Creating a copy means you have a personal one just for you.

Doing this advance will save you, as it can often take a month to fully collect sizes if you don't feel like simply assigning them. We have a sizing guide here you can attach to the google form. Don't forget to order a few extra garments in additional sizes for any new hires, those that get the wrong size, or if anyone doesn't fill out the form.

Also important to consider: do staff need more than one of something? For example, if it's a t-shirt or polo they're expected to wear daily they'll probably appreciate 3-5 of them each.
---
We can help walk you through this process, as we want to make your apparel order as easy as possible. Taking these steps with us now (or in advance) will make your garment process headache free, and ensure we can put your order right into production without too much back and forth. The quicker you get your order in, the quicker you get your garments.

Have questions or want to get started? Email orders@swagandsafetymadeeasy.com.
Ready to order? Get a quote below!
We ship anywhere in Canada!